Not long ago, it was reported that Hugo Barra, the former vice president of Xiaomi, joined Facebook and was responsible for the VR business. Hugo was a good communicator when she worked at Google, and many people remembered his energetic speech. Zuckerberg is likely to hope that Hugo will bring this capability to their VR business, an excellent communicator connected to the Android developer community.
Reuters previously reported that Facebook has been researching to let smartphones run VR. When I saw this news, I immediately thought that Facebook is working with Samsung, just as they are developing Gear VR. I am curious if Facebook is still developing a smartphone that was rumored a few years ago.

In fact, Facebook recently approved a patent on 3D gestures on smartphones and tablets. Like Google, Facebook may want to have this feature and use it as a selling point for Facebook smartphones. This is of course another advantage of Hugo Barra. He has been working hard to promote the Xiaomi brand in China, India and other regions. With Facebook's strong financial resources and scale, Barra can make the most of its advantages.
In the Facebook patent, it first describes the camera of a smartphone that can be used to determine the distance and angle of an object. The system may include one or more touch input devices; proximity sensors; or measuring objects by touch input devices, proximity sensors, or cameras (eg, by using triangulation techniques) to determine the position and movement of the object, or from the system The distance from the surface. By continuously monitoring the touch input device, proximity sensor, or camera, the system can determine the three-dimensional trajectory of the moving object by measuring the measurement of the object by a touch input device, proximity sensor, or camera.
The user can provide input to the system by performing a three-dimensional gesture. For example, the three-dimensional gesture can be the front side of the user's fingertip touch system and then withdrawn from the front. When such a three-dimensional user input is detected, the system can determine (eg, the user's fingertip) a three-dimensional trajectory and determine if the three-dimensional trajectory corresponds to one or more three-dimensional gestures.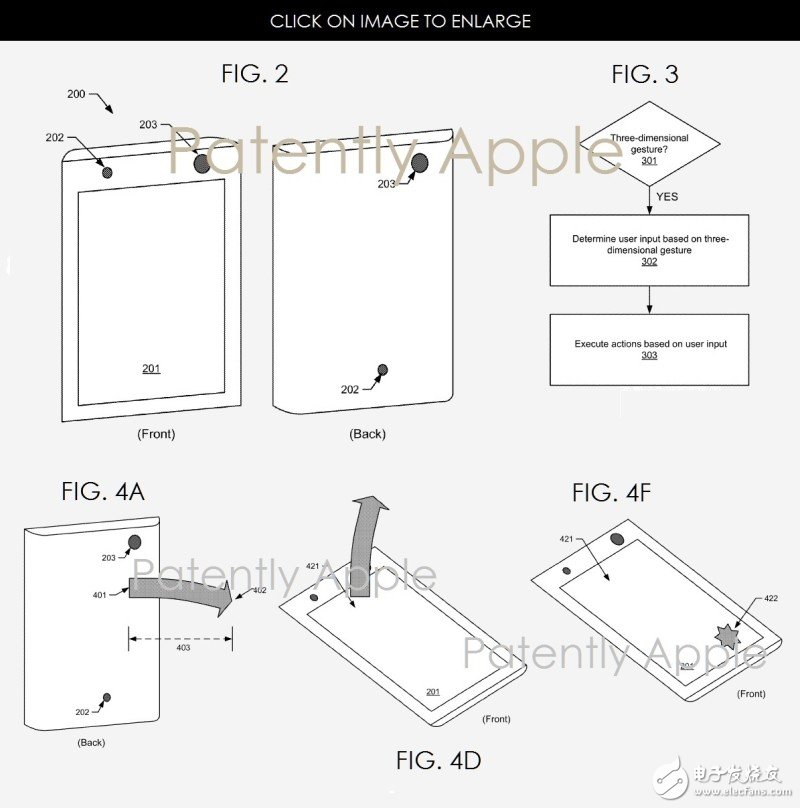 The system can include a three-dimensional gesture library containing a three-dimensional input module or computer program code for computing and interpreting a three-dimensional input trajectory (detected by a touch input device, proximity sensor or camera). Programs running on the system can detect and process 3D gestures by acting as a 3D input module in a 3D gesture library.
An example of a three-dimensional gesture is given in 4A of the Facebook patent map. Specifically, it is an example of a three-dimensional trajectory of a drag gesture. As indicated by the arrows of FIG. 4A, the three-dimensional trajectory of the drag gesture can begin at a first location (401) on a particular surface of the computing device (eg, the back of the mobile device 200) up to the end point (402).
Facebook submitted the patent in 2014 and was approved in early January 2017 with a patent number of 9,535,596.
This 3D gesture seems to be the function that many technology companies are pursuing. In some respects, 3D gestures can be understood as gestures in mid-air, and both Apple and Microsoft obtained relevant patents in January. Implementing this type of gesture requires a 3D depth camera, and Apple's PrimeSense is the leader in the field, and Microsoft's Kinect product has proven the feasibility of the technology.
With Facebook using the Oculus Rift and the corresponding wireless gamepads (they got a patent in November 2016) into the hardware space, the next one comes with a Facebook tag.
Yidashun offer full replacement NEC power Adapter for laptop with best service at the most competitive prices! All our NEC Laptop Charger are Brand New Replacement Product, works as Genuine parts, 100% OEM Compatible!! Our adapter with smart IC to protect your laptop with over current protection, over load protection, short circuit protection, over heat protection.
If your original NEC laptop adapter is not work anymore, please tell us your laptop model, we will help select the correct OEM replacement models for you. we offer a full 1 year warranty for our adapters.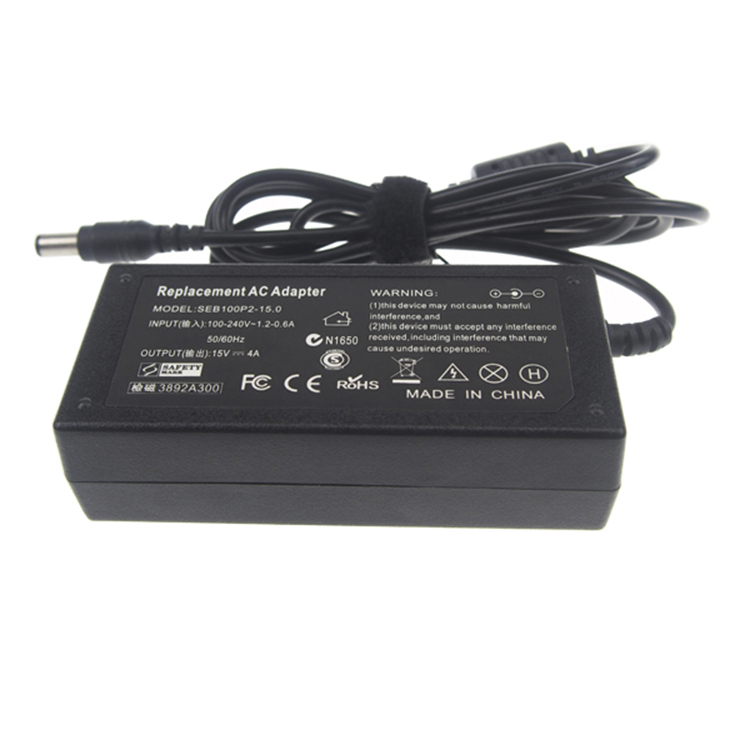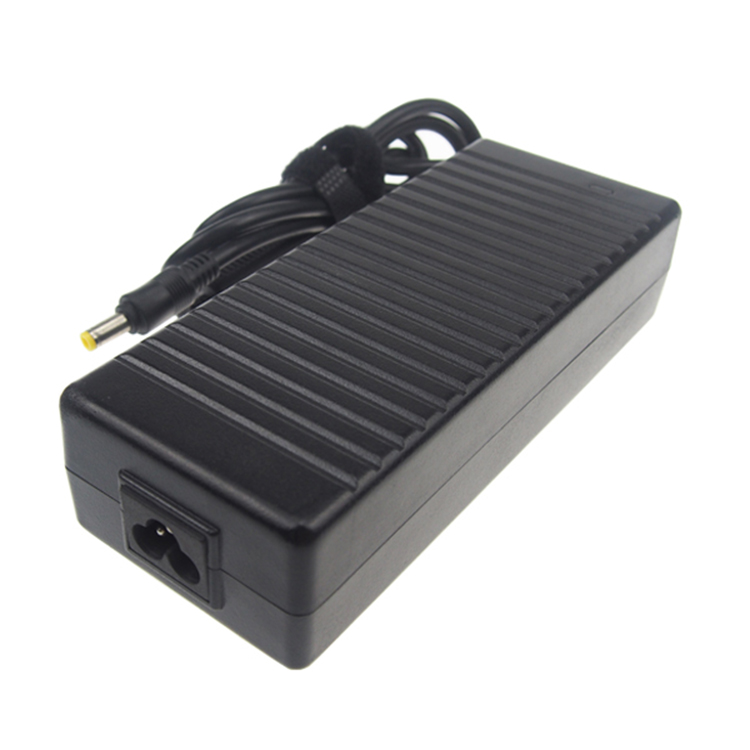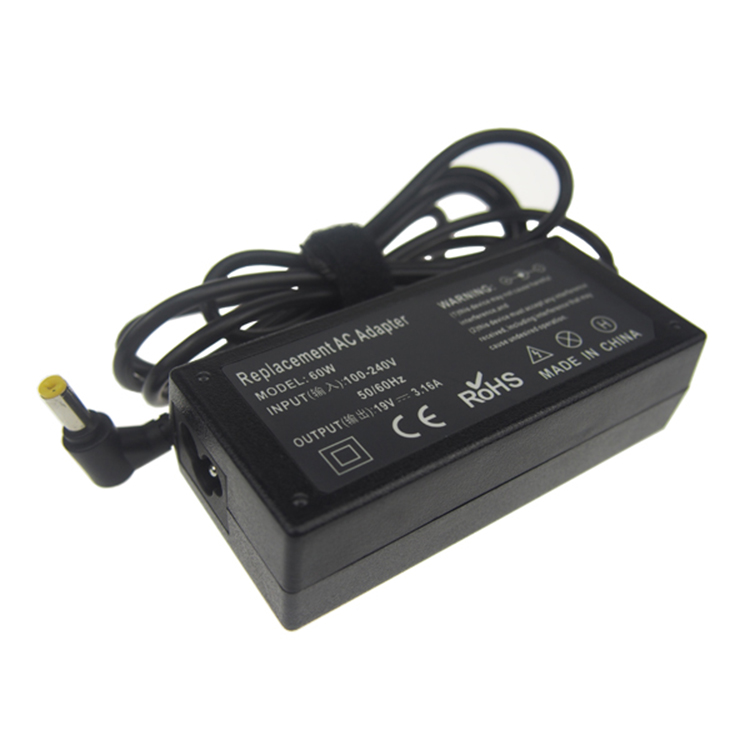 NEC Laptop Charger,NEC Charger,NEC Adapter,NEC Computer Laptop Charger
Shenzhen Yidashun Technology Co., Ltd. , https://www.ydsadapter.com